About Gail...
Gail's work reflects what she loves: the people, wildlife, and place in which she lives. Much of her subject matter lies in the fields and woods surrounding her Colorado home, but her subjects are sometimes from places farther away, like the churches of Santa Fe or the crowded streets of France. If you browse the watercolors on these pages, you might even find a stray family of polar bears (not known to be native to Colorado, but aren't they sweet?). Nearby you'll see a portrait of the elusive fox that haunts Gail's backyard, and a Colorado cowboy tipping his hat, and--one of my personal favorites--a grove of aspen trees standing in light snow in the hazy purple dusk. These paintings bring the ordinary into focus, draw your attention to what is beautiful and what is essential in it, and show you that the ordinary is not so ordinary after all.

The art of painting is in this revealing - in drawing out what is essential, in showing you a vision of the world through the painter's eye. In a sense, with each painting, Gail is saying, "This is what I see here. This is what makes this horse beautiful to me," or, "This is what it means to be a bison, carrying your coat and standing taciturn under a layer of winter snow." Sometimes these perceptions can be described in words, but they are most easily conveyed by the pictures themselves.
Tor Wager
Gail Wager, self portrait


A Business:
Gail never really intended to sell her paintings. In fact, she was rather shy about them. Working busily in the laundry room of her mountain home, Gail's sole intent was to learn to use paint in a way that would express a person, animal, or view as she saw it.

As Gail's passion grew like wildflowers in the spring, we noticed that she became a little bit less available for (family) consulting purposes. Rather, she was busy working to develop a skill that would allow her to build landscapes with the stroke of a hand.

By popular demand, Gail began to sell cards, prints, originals, and commissioned paintings. Her husband, Ralph, diligently aided her in technical areas including data management, printing, matting, and framing.
Brook Wager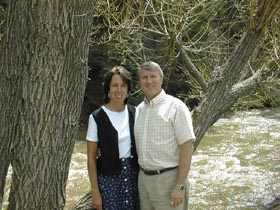 Tor and Brook offered emotional support (to each other!)